NOMAD / TGO Exomars 2016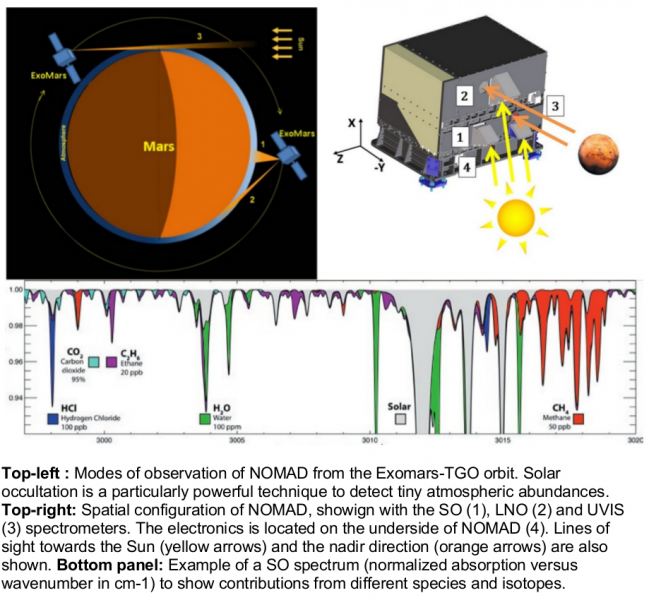 Exomars is the latest European mission to Mars, devoted to explore present and past signs and conditions for life on Mars, and a first step towards a future Mars Sample Return mission. Its first part, launched on March 14th, 2016, by the European Space Agency (ESA) and the Russian Space Agency (Roscosmos), contained a descent module and an orbiter. This one, the Trace Gas Orbiter (TGO), is devoted to the detection and mapping of minor compounds, like methane, on the atmosphere of Mars and near its surface, and to the search for their sources and their variability.   
NOMAD is one of the key instruments on board TGO, which is mapping the composition and distribution of Mars' atmospheric trace species (methane, water vapour, ozone, sulfur, carbon and nitrogen species) in unprecedented detail. It contains three channels covering a spectral range from the UV (UVIS channel) to the IR (SO and LNO channels), and can perform solar occultation (SO+UVIS), as well as nadir and limb observations (UVIS+LNO).
Trace gases are very important for tracking chemical disequilibria, which may be linked to recent changes and on-going processes in the atmosphere and/or its interactions with the Mars surface and with outer space. These minor species shall reveal geophysical activity (e.g. volcanism, outgassing, water-rock interactions), exogenous input (e.g. comets and meteorites) and atmospheric escape to space, or biological activity, i.e. originating from extinct or extant life.
The IAA is co-IP of NOMAD, and several GAPT members are co-I of NOMAD. Our institute is responsible for the design, testing and building of the NOMAD electronic unit, named SIMBAD, which controls the three signals (UVIS, SO and LNO), and we continue tracking the NOMAD performance and supportingn the IP team at IASB in Belgium.
Our major interests within the NOMAD Science Team is on the upper atmosphere and on the retrieval of composition and structure from limb observations using all three channels, as well as on the scientific exploitation of these datasets with global climate models.
We also participate as co-I of the ACS instrument, a Russian-French set of three spectrometers sharing many of the goals and sounding capabilities of NOMAD.
We are also very interested in the non-nominal capability of TGO to perform limb emission sounding, in combining correlated observations with other missions around Mars nowadays (Mars Express, MAVEN) and in high-spectral resolution ground-based observations with CARMENES in support of validation campaigns of TGO.  
Support to the IAA contribution to NOMAD and ACS is supplied by the Spanish Ministry of Economy and Innovation and by the FEDER funds under grant "CIENCIANOMAD",  which follows upon other previous grants extending back in time to 2010.  
Some publications describing the NOMAD instrument and its scientific potential, where we have participated:
"Science objectives and performances of NOMAD, a spectrometer suitefor the ExoMars TGO mission" , A.C. Vandaele et al. (includes  J.-J. Lopez-Moreno,  B. Funke, M. López-Puertas and M. López-Valverde).
"NOMAD spectrometer on the ExoMars trace gas orbiter mission: part 1—design, manufacturing and testing of the infrared channels", E. Neefs et al. (includes the IAA technical team: J. Rodríguez, J. J. López-Moreno, R. Sanz, R. Morales, M.C. Pastor, B. A. del Moral, and J.M. Jeronimo-Zafra)  http://dx.doi.org/10.1364/AO.54.008494
"NOMAD spectrometer on the ExoMars trace gas orbiter mission: part 2—design, manufacturing, and testing of the ultraviolet and visible channel", Patel et al. (includes the IAA technical team: J. Rodríguez, J. J. López-Moreno, R. Sanz, R. Morales, M.C. Pastor, B. A. del Moral, and J.M. Jeronimo-Zafra)  https://doi.org/10.1364/AO.56.002771
"NOMAD, an Integrated Suite of Three Spectrometers for the ExoMars Trace Gas Mission: Technical Description, Science Objectives and Expected Performance",  A.C. Vandaele et al. (includes  J.-J. Lopez-Moreno,  B. Funke, F. González-Galindo, M. López-Puertas, M. López-Valverde and J. Rodríguez-Gómez)  https://doi.org/10.1007/s11214-018-0517-2
"Investigations of the Mars Upper Atmosphere with ExoMars Trace Gas Orbiter", M. A. López-Valverde et al. (includes also S. Jiménez-Monferrer, M. García-Comas, J.J. López-Moreno and J. Rodríguez)  https://doi.org/10.1007/s11214-017-0463-4